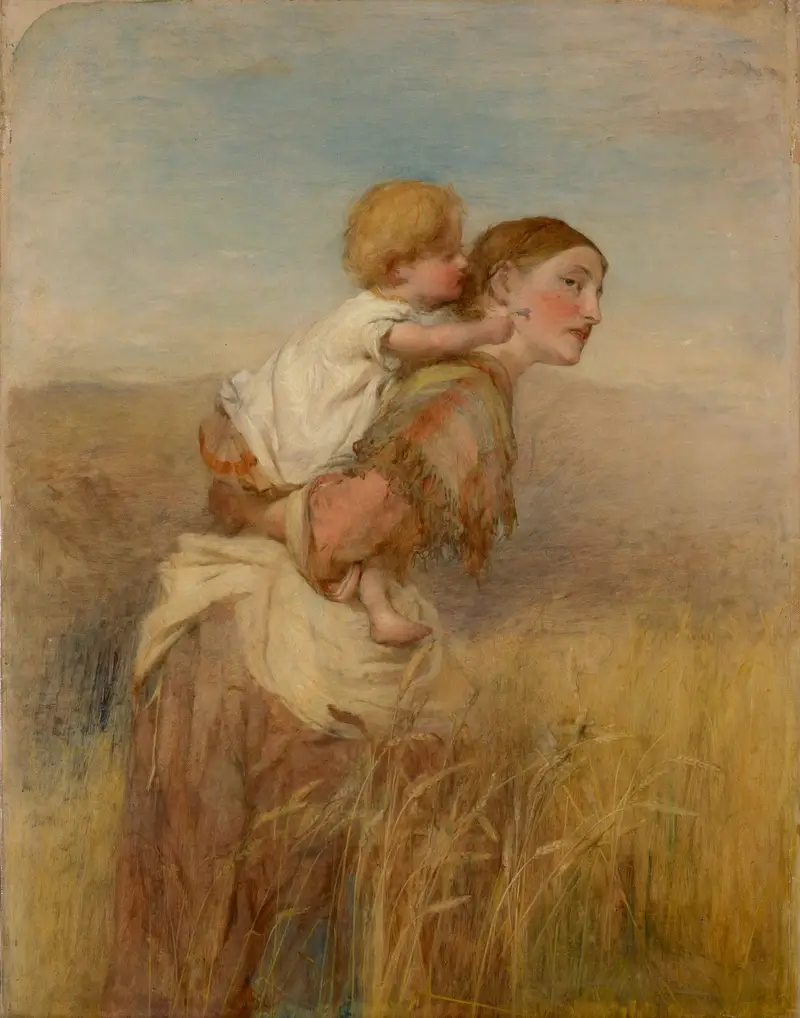 All images of this object © National Galleries of Scotland, Edinburgh
Sir William Quiller Orchardson
Through the Corn
Oil on canvas, exhibited by 1859, 57 x 45 cm
National Galleries of Scotland
Sir William Quiller Orchardson (27 March 1832 – 13 April 1910) was born in Edinburgh and trained there at the Trustees' Academy, then under the mastership of Robert Scott Lauder. He was a noted Scottish portraitist and painter of domestic and historical subjects. He was knighted in June 1907, at the age of 75.
This painting, which is part of the collection of National Gallery of Scotland, was made when William Orchardson was living in Edinburgh. In preparation for a new display at the Galleries, and following on an assessment of the condition and the artists technique, the painting received a mainly preventative conservation treatment.
I carried out surface cleaning and applied a polyester wadding to the reverse. This offers the unlined linen support more stability and prevents further marking in the paint layers from the stretcher bars.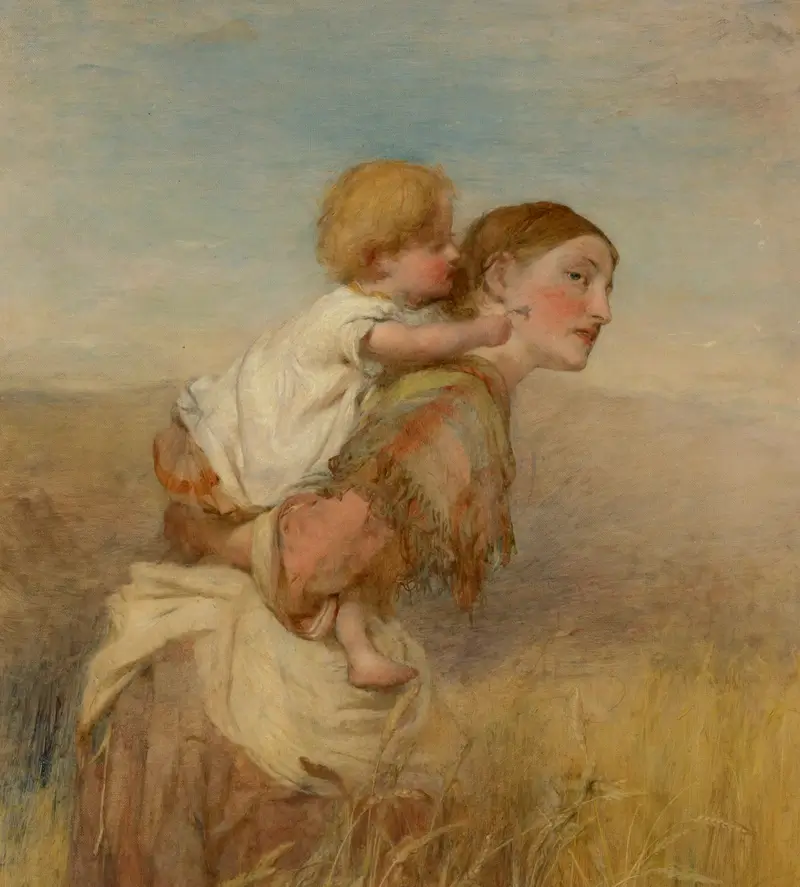 detail normal light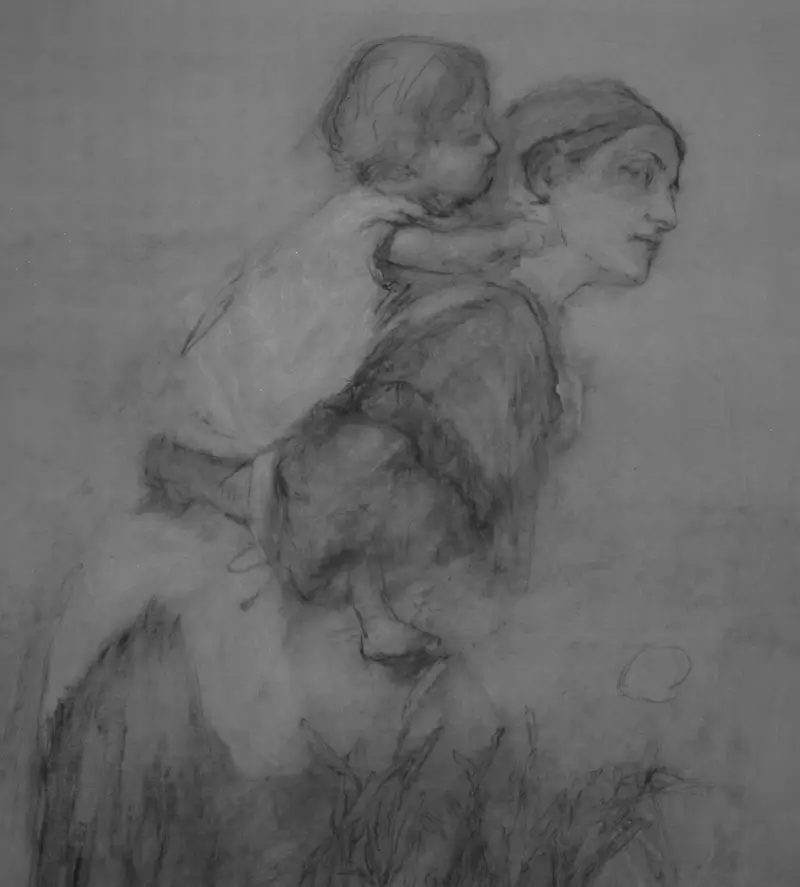 detail infrared reflectogram
Infrared reflectography was used to detect underdrawing beneath the paint. This revealed more of the initial drawing, especially towards the top of the corn and more extensively in the sketching of the two figures. Small changes in the final painted composition, for example the scarf around the woman's shoulders where it is tied together just in front of her collarbone, offer insights into the artist's working methods.
The reverse of the painting revealed an artists' suppliers stamp. Partially hidden by the stretcher bar, only the word 'EDINBURGH' was fully visible, the letters, 'RO' and 'SON' could just be made out at the edge of the stretcher bar. Further research of British artists' suppliers indicated that the supplier must have been ROBERT R NELSON ARTISTS COLOURMAN 27, HANOVER ST. EDINBURGH (source National Portrait Gallery database for British artists' suppliers). The database notes another canvas by Orchardson from the same supplier.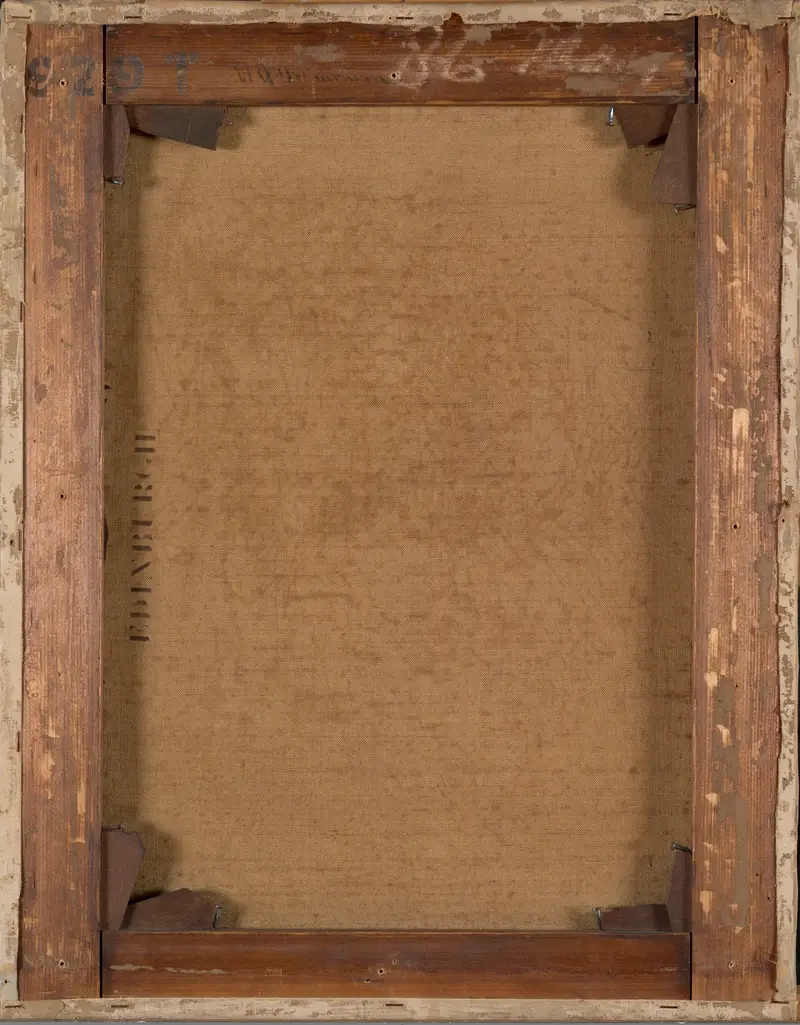 reverse with suppliers stamp